Transport - WheelDock Motorcycle Wheel Chock FOR CAST WHEELS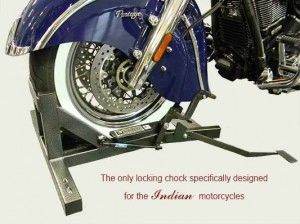 Transport - WheelDock Motorcycle Wheel Chock FOR CAST WHEELS
FOR CAST WHEELS ONLY
The most secure and easy to use wheel chock on the market!

Can be used as a trailer chock or free standing garage stand.
Our patented gas spring retaining system allows for a flat entry and removal of your motorcycle. No "Teeter Totter" style mechanism to lift your bike over like other locking chocks.
Trailer your bike without compressing the suspension! The Wheeldock chock provides the ultimate in trailering security. Your bike rides on its suspension while trailering.
The utmost stability when used freestanding. The Wheeldock design "boxes" the front tire of the bike. Containing the bike forward, backward, and side to side. Great for maintenance and cleaning.
The new Indian Motorcycles require the bike to be vertical when performing fluid maintenance. The Wheeldock chock safely maintains the bike in a vertical position when it's time to get out the wrenches.
Save space by storing your Motorcycle vertically and in tight spots. The Wheeldock chock allows you to pull up in a corner and dismount your bike from either side. The tire does not protrude beyond the front of the chock, allowing it to be placed against a wall.
Comes with flush mount hardware for mounting the chock in your trailer.
Durable epoxy powder coated finish.
Lifetime guarantee.
Made in the USA.