GENUINE LEATHER UPPER SADDLEBAG FRINGE DESERT TAN - 2879879-05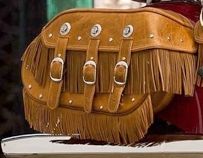 GENUINE LEATHER UPPER SADDLEBAG FRINGE DESERT TAN - 2879879-05
It's easy to change your Indian Motorcycle® style and give it a custom look by adding a set of Genuine Leather Upper Saddlebag Fringe. In just seconds, your Indian Motorcycle® is transformed into a classic-look motorcycle with leather fringe. And it's just as quick and easy to reverse the process and remove the fringe. The strips of leather fringe attach using Velcro® to the undersides of the saddlebag lids. The fringe is visible as it drapes below the bottom edge of the lids, and the fasteners are out of sight. If you're in the mood for fringe, add it and ride on!
·         Color: Desert Tan
·         Material: Premium Leather
·         Leather care: Leather is a natural product and will exhibit qualities inherent in a natural material. Fading, wrinkles, grain changes, creases, and small marks are assurance that this material is not man-made. As the product is used, each leather product will exhibit tarnish from use. Regular care will help keep premium leather products looking their best.
·         Features: 5.5" fringe
·         Installation: Strips of fringe attach to underside of saddlebag lid with Velcro®
·         Includes: Two strips of leather fringe for a set of saddlebag