GENUINE LEATHER FLOORBOARD TRIM W/FRINGE BLACK - 2879555-01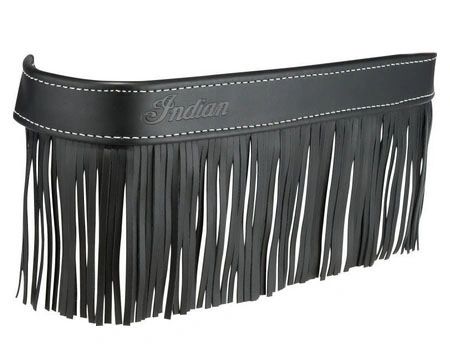 GENUINE LEATHER FLOORBOARD TRIM W/FRINGE BLACK - 2879555-01
Take your Indian Motorcycle® custom treatment to the next level by adding Black Genuine Leather Floorboard Trim with Fringe. It expands the presence of handsome, premium leather throughout your motorcycle and enhances the high-visibility center section of the bike, which includes the powerful Thunder Stroke™ 111 engine. This trim installs quickly and elevates the floorboards from being utilitarian components to being part of the motorcycle's finished, custom styling. The trim includes Indian Motorcycle® script branding near the front, high-contrast white stitching to match bike's other leather components, and 6" long fringe.
·         Color: Black with white contrasting stitching
·         Material: Premium Leather
·         Leather care: Leather is a natural product and will exhibit qualities inherent in a natural material. Fading, wrinkles, grain changes, creases, and small marks are assurance that this material is not man-made. As the product is used, each leather product will exhibit tarnish from use. Regular care will help keep premium leather products looking their best.
·         Features: 6" long fringe
·         Installation: Attach to floorboards using integrated mounting holes
·         Includes: Left- and right-side Floorboard Trim with Fringe