GENUINE LEATHER GRIP WRAPS DESERT TAN - 2879999-05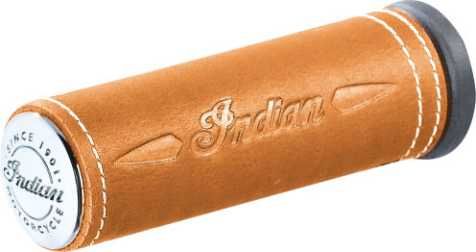 GENUINE LEATHER GRIP WRAPS DESERT TAN - 2879999-05
Complement the custom leather look of your Indian Motorcycle® and ensure yourself of a sure grip on the bars with these Desert Tan Genuine Leather Grip Wraps. These wraps are made of premium leather and feature Indian Motorcycle® script branding. They mount securely over your stock handgrips and provide a sure, comfortable grip on the controls. They also give your Indian Motorcycle® a classic custom look that will always be in style. The perfect complements to these Grip Wraps are the matching Desert Tan Genuine Leather Lever Wraps (2880000-05; sold separately).
·         Color: Desert Tan
·         Material: Premium Leather
·         Leather care: Leather is a natural product and will exhibit qualities inherent in a natural material. Fading, wrinkles, grain changes, creases, and small marks are assurance that this material is not man-made. As the product is used, each leather product will exhibit tarnish from use. Regular care will help keep premium leather products looking their best.
·         Features: Indian Motorcycle® script branding
·         Installation: Wraps slide easily over handgrips and are held in place with leather laces
·         Includes: Set of grip wraps and leather lacing
·         Recommended with: Desert Tan Genuine Leather Lever Wraps (2880000-05)